In my parents' house where I grew up, there is a little closet in the bathroom we always called "Dad's bathroom." I used to be fascinated with this closet as a little girl; tall and very narrow, it contained a series of shelves that went all the way up to the ceiling. Dad kept his work clothes in there. It was also a great place to hide while playing hide and seek; I remember sitting in the bottom of that closet many times, with Dad's jeans and sweatshirts and socks piled on the shelves above my head, surrounded by that very specific Dad smell: Kirk's Castile soap and machine oil.
Not long after Dad died, I went into that bathroom to discover that Mom had cleaned out the medicine cabinet. I immediately turned around, my heart beating fast, and opened the closet door. I was afraid she had cleaned that out as well. Instead, there it was as always: sweatshirts and jeans piled on the shelves, the smell of Kirk's Castile and machine oil wafting out. I was so relieved. In the years since, I have gone into that bathroom every single time I've been at Mom's house, and opened that closet door and just looked at Dad's stuff, surrounded by that very specific Dad smell. Who knows why, but that closet became my comfort object.
Yesterday, Mom and I were doing a little cleanup at her house, to prepare for out-of-town guests. Suddenly she was walking out of that bathroom with an armload of Dad's clothes. "Let's get these out, to make room for towels," she said. And this is such a good thing, you know? For Mom to be able to separate Dad's memory from Dad's things, and to use her home in the way that works best for her- instead of living in a museum every day. "That's awesome, Mom," I said, and I went in and helped her unload the shelves, all the way to the top. We put all his stuff in my car so that I could take it to Goodwill, the closet now full of towels and smelling like fabric softener.
When I drove home, it was like I was sitting in his closet, completely surrounded by the scent of Kirk's Castile and machine oil. I walked in the door, found Dave, and I covered my face like a child and sobbed for five minutes. It's amazing, how important these little touchstones become, isn't it? I texted my siblings the whole story and used this gif to illustrate how I drove home. You can laugh, by the way; I've discovered that grief is frequently quite funny. Behold me, driving the car filled with Dad's clothes: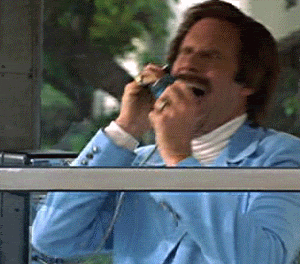 …And although my siblings all laughed, and we all agreed it was a good step for Mom to take, I also said, "I won't donate anything until you all have the chance to come and see what's here." And Jill said, "I'm crying, and I want to see his jeans with the rolled-up cuffs," and I know exactly what she meant and how she felt.
It's all on my dining room table. Cammy put on a sweatshirt of Dad's and said, "Can I have this but not wash it? It smells like Papa." I hugged him, smelling Kirk's Castile and machine oil. "Yes, you can," I said.
"I won't wash it."